Boarding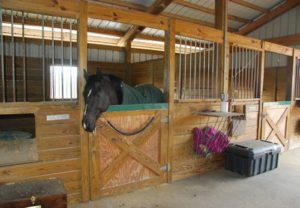 H & G Horse Quarters is a horse boarder's dream. Our facility sits on 130 acres with 5 all weather footing arenas, arena lights, horse show quality jumps with keyhole tracks, and two large hay fields open for hacking to our boarders. H & G offers full care and two pasture boarding options to accommodate all clients.
Full Care/ Stall board option includes twice a day feeding, supplemental hay, daily turnout, and blanketing. Additional services offered for additional fees.
Full Care Amenities:
A 16 stall main horse barn and 6 stall back barn
3 Tack rooms
4 Indoor groom/wash stall with hot and cold water
4 Outdoor groom/wash stalls
Climate controlled lounge with wireless internet and restroom
Automatic fly spray system
Turnout based on each horse's individual needs
Twice Annual vet days
Well kept pastures
Weekly farrier appointments
H & G Horse Quarters' Pasture Board care includes twice a day feeding and supplemental hay. We have turnout options to fit you and your horses individualized needs.
Pasture Board Amenities:
Pasture boarders barn with 2 large tack rooms
6 Groom/wash stalls
Lush pastures with hay in winter months
Numerous turnout options for horses
Regular worming schedule
Weekly farrier appointments
*** For more information regarding Boarding,
please contact us for a complete guide of our services. ***